Training When Pools Are Closed
Throughout the Covid pandemic, pools were closed nationwide and most triathletes were unable to swim for at least some of the time. When pools are closed, I advise triathletes to do some strength-endurance training at home with an elastic stretch cord.
Training with an elastic cord must be done with good technique or there is some risk of injuring the shoulder. Unfortunately, most age group swimmers use a technique I call the "tugboat"—they swim with no longitudinal roll so the shoulders remain parallel with the wall they are swimming toward in the pool. This puts a lot of stress on the small shoulder muscles and is likely to cause a shoulder injury. These small muscles weren't meant to pull the body through the water.
The PDLC method: Posture, Direction, Length, and Catch
In my Triathlete's Training Bible, 4th edition, I describe a method I teach at my camps called PDLC, which stands for Posture, Direction, Length, and Catch. This is explained in detail in the book. The "L" – length – has to do with rolling the torso so that the latissimus dorsi (lats) are the primary movers. Those are much bigger muscles and less likely to be injured when swimming. The trick, for most age groupers, is getting into this position.
In this illustration from the Training Bible, note the slight roll onto the right side, allowing for a longer reach. This also reduces drag in the water much as an aero position reduces drag on a bike.
Also note that the right hand is reaching well in front of the shoulder and the hand is already in the "Catch" position with fingers pointed down. This is the same position you need to emulate when doing dryland training with a stretch cord, as shown here.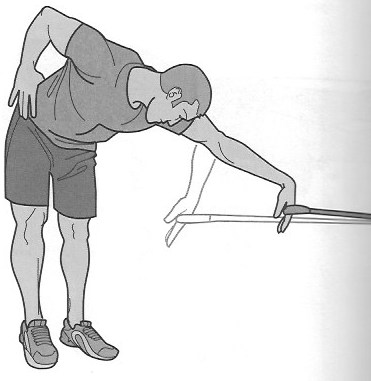 Notice that the shoulders and torso are slightly rolled to the left side with feet pointing a bit to the right. This puts you in a position that is about as close as you can get to Length and Catch using the elastic band.
This is a good exercise for building swim strength while also focusing on technique. By doing several reps of this exercise regularly you can ingrain the technique, which will seem strange at first, while also developing strength and endurance for when you're back in the water again.
For more details on PDLC, read pages 194–203 in The Triathlete's Training Bible, 4th edition.